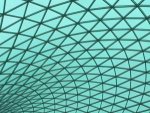 Now this is just typical. Last week I have finally gotten rid of my job board, because nobody was using it. Just a week later, my advisor asks me, where it went, because she would like to announce two job openings. Oh well. Murphy is everywhere. I won't bring back the job board, because as we say in Germany One swallow does not make a summer (gotta love those word-for-word translations

), but I will not miss the chance to tell you about the openings.
The reason is simple: I believe those two openings really are among the best places to work in Germany. How do I know? Well, of course because I have worked in the research group for the last four years. My advisor, Prof. Claudia Leopold is incredibly helpful. The rooming situation at the workplace is great. Colleagues are a joy to work with. And the research area in question is interesting as well: everybody is talking about grid computing, but the field is more than big enough to leave a lasting impression in. I could go on for hours, but I will not bore you with the details. Instead, here is a link to the official job offer. It's in German, but since the positions also include teaching responsibilities (another very rewarding area, if you ask me), you need to know German to qualify for it anyways. So if you are interested, don't hesitate to apply, but better be quick, as the deadline is tight!