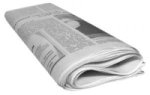 Once again, it is time for a short newscast. Notable this time is the fact, that more and more stuff seems to be written about
multi-cores, threading and parallelism in general. It feels like people do start realizing that the concurrent era is here and that they need to improve their knowledge in this field. A very encouraging sign! Or maybe its just because of Supercomputing and the recent coverage will die down again. Anyways, without further ado, here are some of the articles I found interesting lately:
Hope you found something interesting among them!